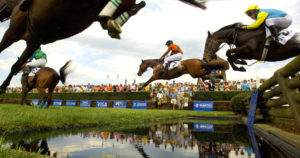 Racegoers are always on the go to enjoy horse racing events wherever they are located. That is because many thrilling horse racing events are available in most states and countries worldwide. Specifically, in the United States, numerous major and local events exist to provide the best horse racing experiences in the country. Of course, the Queen's Cup Steeplechase in Charlotte, North Carolina, is no exception. 
With its return gearing up in April, many horse racing fans are also on their feet to make the most of the experience, be it to witness the exciting race or enjoy varying exciting activities that come on the Steeplechase race day. Ready to experience the thrill of the chase again? Here are three ways to enjoy the 2023 Queen's Cup Steeplechase.
1. Explore Activities
Queen's Cup Steeplechase is not only a distance horse race that shows off speed, stamina, and incredible horse abilities to overcome various jump obstacles and hurdles. Similar to famous horse racing events like Belmont Stakes and Louisiana Derby, the Queen's Cup Steeplechase is also an event of a diverse gathering of style, community, and fun. 
Since 1996, the Charlotte Steeplechase Foundation has prepared numerous enjoyable events for people to experience more than traditional regional horse racing. Some social events and activities you can enjoy at the Steeplechase race include the following:
Thoroughbred Jump Racing
As mentioned, the Queen's Cup Steeplechase encompasses competing horses with speed and stamina to complete about four jumps in a three-mile race. With over $200,000 of purse money, jockeys and their horses compete with passion and skills to achieve glory on the racetrack. To make the race even more festive to witness, jockeys wear brightly colored silks while on the run on the classy turf course of Brooklandwood. 
Queen's Cup Hat Contest
Not only can you witness great horse racing, but you can also participate by showing off your best hat design on the event ground. Annually, before the Queen's Cup takes its place, attendees prepare using their creative juices to create hand-decorated hats, aiming to win big prizes. If you enjoy styling your own hat, this event can be a great one to join in. 
There are four categories in the Queen's Cup Hat Content: Men, Women, Children, and the new addition, Most Royal. What makes the Most Royal different is you don't have to decorate the hat on your own as you use store-bought extravagant styled hats to join the contest.
Silver Jubilee Tailgate Contest
If you love competition and creativity, this activity is incredibly a must-try. The tailgate contest allows you to create elegant Silver Jubilee-themed tailgates. All you have to do is prepare varying tailgate ideas with delicious snacks and fun drinks. Whatever you are to create, you are free to use as many decorative pieces as you have, turn your tailgate into an elegant space with a table set up, and wait for the judging to take place around noon.
Other than that, activities for kids, such as Pony Rides. You don't even have to worry about food, and such as the Queen's Cup Steeplechase has official vendor partners offering varying options you can enjoy throughout the events and activities.
2. Know the Dos and Don'ts
To ensure safety and fun on race day, the Queen's Cup prepares guidelines and restrictions you must follow to ensure the utmost experience. These guidelines not only ensure a safe environment but also protect the event's horses and jockeys. 
Dos
Your vehicle must meet the size requirements for the tailgate area.

Have your credential badge and parking pass ready for the checkpoint.

Find alternative routes in advance should there be traffic.

Utmost respect and courtesy are a must for people around you.
Don'ts
Tents and standing umbrellas are not allowed.

Loud music and overcrowded tailgate space are prohibited.

Don't touch the horses.

The use of flags, drones, balloons, and similar materials is not allowed.

Grills, fryers, and smoking under the tents are prohibited.
Dress Up!
You may already know by now that aside from horse racing and creative activities, dressing up is also one way to enjoy the Queen's Cup Steeplechase. Bright, colorful suits, pants, and dresses sure match the vibe of this one-of-a-kind horse racing event. You can even match up outfits and styles with your family or friends. 
Of course, for women, never forget your stylish hats. As many say, the bigger, the brighter, and the more flowers, the better! If you worry about the scorching heat, you can wear a simple and comfortable outfit with adequate protection by using sunscreen, lotion, and sunglasses. 
Conclusion
The Queen's Cup Steeplechase does not only provide you with unending fun with its exciting horse racing and numerous activities but also allows you to connect with a community that shares the same interest as you. Probably one of the greatest ways to enjoy the end of April. To keep the fun going, of course, keeping yourself updated about the details of the event proper will help you achieve a more enjoyable and comfortable thrill of the chase.
Comments
comments