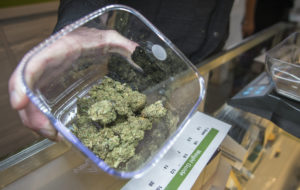 Variety can be a good thing. When it comes to CBD however, this is both a blessing and a curse. There are thousands of different products and a fair few ways to use CBD. Oils or topicals? Gummies or tablets? It can be overwhelming. Because of this, some of the more traditional methods- such as smoking the flower- can get overlooked. This can be partly attributed to the popularity of vaping CBD e-juice instead.
Vapes are something of an industry darling, leading to a surge of e-liquids or all shapes and sizes flooding the marketplace. They're compact, easy to use and come in hundreds of flavors. It's also not unusual to see previous nicotine-only vape companies changing tack, becoming CBD vape manufacturers to get in on the action. 
So why should you consider smoking CBD flower instead of reaching for your CBD e-juice? Let's go through the list- here are 3 reasons why you should smoke CBD flower, not vape it.
Quality
One of the biggest issues plaguing the CBD industry today is the number of inferior products on the market. CBD oil production is not currently regulated by the FDA, meaning imitations and potentially dangerous CBD products can slip through the net. A large amount of these inferior oils end up making their way into e-liquids, which are mass-produced, packaged and sent to unsuspecting customers. 
CBD flower on the other hand, is far harder to simply imitate. Hemp growing itself is closely monitored, and growers use 3rd party laboratories to verify their produce. Most major growers also use organic methods to ensure their CBD flower is the best quality possible, without any pesticides or other nasties. The end product is a simple, green bud that's packed with all the good stuff and nothing else. 
Quantity
If the thought of high-quality CBD is appealing but the price tag isn't, CBD flower should be your first choice. Depending on the rate you smoke, a little goes a long way- a half-ounce of high-quality CBD flower can cost as little as $50 from a verified grower. While going for the cheapest thing doesn't sound too smart, if that thing is premium CBD flower from an award-winning hemp farm, go for it.
Efficacy
During the process of extracting CBD from the plant to synthesize oil, the whole plant is used. Seeds stems and all. The process for CBD flower is far gentler. Rather than crush the plant and remove the CBD, flower harvesting keeps all of the necessary plant components intact. This allows the final product to consist only of healthy, trimmed buds full of a whole host of helpful compounds. It's these compounds that may give CBD flower the edge over vaping pure CBD, and that edge is called the Entourage Effect.
The Entourage Effect was a term coined in 1998 by a researcher called Dr. Mechoulam. He suggested that CBD would be far more effective if it worked in synergy with the other compounds found in hemp, instead of isolating it. It turns out he may have been right- research shows that CBD products that included these compounds may actually be more effective. CBD flower is one of these products- natural, full-spectrum CBD.
Still not sure? Luckily, there's a wealth of useful information available. Sites like BestDosage give a full breakdown of each product to help you make the right decision, as well as in-depth reviews from other CBD users. Head to BestDosage.com and keep yourself informed.
https://www.ncbi.nlm.nih.gov/pmc/articles/PMC6334252/
Comments
comments