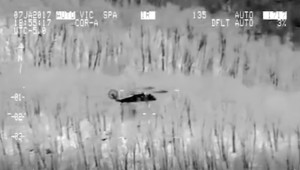 Two hikers from Charlotte, that went missing on Thursday, Jan. 5 in the Shining Rock Wilderness Area near Asheville, were just rescued by a couple helicopter pilots and 3 firefighters from Charlotte with the North Carolina Helicopter and Aquatic Rescue Team (NCHART).
David Crockett and his friend Sultan Alraddadi became disoriented on Friday and decided to call 911 to ask for help, but since their cell phone had poor reception, they couldn't be easily tracked.
Over 100 ground-based rescuers from two dozen local, state, and federal agencies were searching for the lost hikers day and night, and with sub-freezing temperatures sweeping in, the chance of finding them alive was getting smaller and smaller.
On Saturday afternoon, at 2pm, the NCHART team was sent in, made up of a State Highway Patrol helicopter, a NC Guard UH-60 Black Hawk helicopter and three Charlotte firefighters:
The helicopter that saved them had to wait until the storm that dumped about 7 inches of snow in the area cleared the area – even then the pilots knew the storm could pick back up at any moment.
It then took the helicopter crew about two hours to find and rescue the men. They were taken to the hospital, and they've since made a full recovery.
David Crockett had this to say on Facebook after his near-death rescue:
NCHART, the first unit of its kind in the America is now serving its 14th year in North Carolina, and is now credited with over 80 successful rescues.
Comments
comments