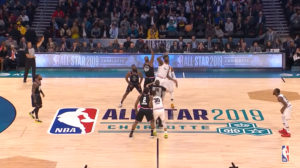 With the NBA season coming to a close, bettors are looking towards the best ways to wager on the upcoming playoffs. The top eight teams from the Eastern and Western Conference square off in a best-of-seven series which ends in the top team from each conference matching up in the championship. 
The main difference is that the play-in tournament that originated in the bubble will be in play, so the 7-10 seeds in each conference will play a small tournament to decide the 7 and 8 seeds. 
Best Ways to Bet on the NBA Playoffs
There are multiple ways to bet on the playoffs, with the most profitable being future bets, each round bets, and individual game bets. 
Future bets: 
An NBA playoff future bet is a longer-term bet in which you pick the potential champion or conference champion at more favorable odds. For example, you could take the Nets to win the championship at +250 or the Clippers to win the Western Conference at +260. 
You can also take future bets throughout the playoffs at updated odds. If you are worried about a particular first-round matchup for a specific team but are confident they can go far if they get their first round, you can take them after reduced odds. 
Each Round:
Another way to bet on the NBA playoffs is by wagering on specific matchups. For example, last year, the Miami Heat were +275 against the Milwaukee Bucks in their second-round matchup. 
These are great bets if you feel like there is value in an underdog in the early rounds but are unsure if they have what it takes to win it all. You also have the luxury of taking these after the series has started at updated odds. 
For example, if the Clippers and Blazers are a first-round matchup, and Portland wins game one, you can take the Clippers to win the series at significantly more favorable odds. Lastly, you can take the exact games in the series. This is great for series you feel are entirely lopsided or extremely tight, as there is a lot of value in predicting sweeps and game sevens. 
Individual Games: 
Finally, as a bettor, you will always have the ability to bet on individual games in a series. The three main types of wagers for individual games are moneylines, spreads, and over/unders. 
Moneylines: 
A moneyline bet is the most straightforward bet out there. It comes down to simply choosing which side will win the game. They would look like the following: 
Portland Trailblazers (-120)
Denver Nuggets (+105)
If you put $100 on Denver moneyline, you would get back $205 total, netting $105 profit. 
If you put $120 on Portland moneyline, you would get back $220 total, netting $100 profit. 
Spreads: 
A spread bet is the most common bet on an NBA game. The sportsbook you are using will give a spread for a specific matchup. For instance: 
Dallas Mavericks -3.5 (-110)
Memphis Grizzlies +3.5 (-110)
If you were to take Dallas -3.5, they would need to win by at least four points for you to cash your bet. If you took Memphis +3.5, even if they lose the game, you would cash your bet if it's by fewer than 4 points. 
Over/Under: A sports betting Over/Under is a bet where you have to predict the combined score of both teams correctly. You pick if the total score will be higher or lower than the number set by oddsmakers. One example could look like the following: 
Philadelphia Sixers vs. Boston Celtics Over 210.5 (-110)
Philadelphia Sixers vs. Boston Celtics Under 210.5  (-110)
Betting Tips/Strategies: 
When betting on the NBA playoffs, we feel that it is most profitable to use all three previous methods. Allocating your bankroll to future bets, each round wagers, and individual games are the most effective way to bet the playoffs. Since the final playoff seeding has not been finalized, we cannot offer any input on round betting. 
But we do love some futures, mainly Clippers (+260), to win the Western Conference. Kawhi Leonard is sneakily playing at an MVP level, averaging 27/6/5 on almost 52% from the field while also bringing in 1.5 steals per game. 
Besides, Paul George has completely rebounded from his poor playoff performance last season, averaging 24/6/5 on 48% shooting with 3.5 3s made per game. With an elite combination of inside and outside scoring, a top 5 offense, and the 6th overall defense, we likely see the Clippers make a deep playoff run. 
We like (+260) to win the Western Conference more than (+640) to win the whole thing because of the ultra-talented Nets team likely coming out of the east. While the Bucks or Sixers could pull an upset, it's not worth the risk, as a healthy Nets team will be very tough to beat in a seven-game series. 
Choosing a Sportsbook:
 Finding the right sportsbook can be a difficult task. Safest Betting Sites is a trusted analyst in the industry. We know how important it is to have a secure site with an appealing, easy to navigate interface and favorable pricing on odds. We recommend MyBookie, BetOnline, and Bovada. All three of these have quick payouts, no deposit fees on Bitcoin, and a vast range of bets available. 
Comments
comments