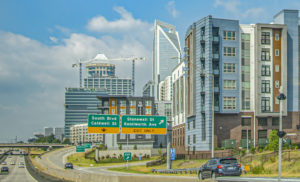 North Carolina is the No. 9 growth state in America, according to U-Haul data analyzing migration patterns from 2020.
North Carolina slid six spots from its No. 3 ranking in 2019, but remains a top-10 growth state for the fourth time in six years. U-Haul had the Tar Heel State No. 1 in 2015 and No. 7 in 2017.
People coming to North Carolina in one-way U-Haul trucks increased more than 11% during the past year, while departures rose 12% over 2019. Despite the larger increase in departures, arrivals still accounted for nearly 50.2% of all one-way U-Haul traffic in North Carolina during 2020 to make it the No. 9 state for netting DIY movers.
"The housing market in North Carolina is off the chain. Charlotte is No. 3 on Realtor.com's top housing markets. Builders can't keep up with the demand. Homes for sale are only on the market for 5-13 days," said Chuck Watson, U-Haul Company of Raleigh president. "I've also noticed a lot of new residents coming from New York and New Jersey. Some are arriving because they have family here. And because there is a huge demand for U-Haul services in North Carolina, we're expanding our dealer network – and U-Haul has plenty of opportunities for work."
Growth states are calculated by the net gain of one-way U-Haul trucks entering a state versus leaving that state during a calendar year. Migration trends data is compiled from more than 2 million one-way U-Haul truck-sharing transactions that occur annually.
Charlotte Stories is continually partnering with the best real estate agents in every part of the Charlotte region.
If you're thinking about moving in or around Charlotte, let us connect you with a top agent in your area by filling out the form below:
Comments
comments