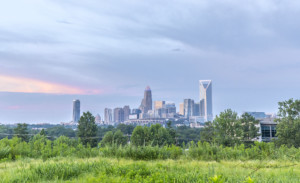 The Charlotte Center City Partners have just unveiled their latest research and economic development data focused on the city's urban core in their 2018 State of the Center City (SoCC) report. The data shows continued growth in Charlotte's Center City thanks to talent in-migration and retention, expanded access to transit, upgrades to IT infrastructure, and continued investment in office and residential development.
"The state of our Center City is strong and growing. Today Uptown is home to 50% of the region's Class A office space and Charlotte ranks 7th in the nation for central business district office construction," said Michael Smith, President & CEO of Charlotte Center City Partners. "The growth we see all around our Center City did not happen by chance, it is the result of four decades of long-term planning and deliberate investment in our central business district. Today, the additive effects of this enduring commitment are producing strong returns across all sectors of development."
A few significant points were noted in the report, including:
• In 2017, Charlotte added 1.37M square feet of office space, 1,847 apartments, 713 new hotel rooms
• Charlotte Center City ranks seventh in the nation for downtown office construction, along with Philadelphia, Seattle, Denver, Chicago and Dallas, and fourth in the nation for downtown office absorption.
• 276 restaurants (25 new in 2017), 164 shops (38% increase from 2010), 9 craft breweries and bottle shops in Center City
• 84% population growth of residents ages 20-34
According to the report, "In 2017, close to 1 million square feet of new office space was occupied, almost 1,000 new apartments were absorbed, and hotel occupancy rates were stable despite over 700 new hotel rooms. The pent-up demand for all classes of real estate was demonstrated as new buildings were quickly occupied. Robust leasing activity and commitment from tenants prompted construction of proposed office projects. In 2018, construction will continue on 1.9 million square feet of office, 362,000 square feet of retail, 3,532 housing units and 1,076 hotel rooms."
Over the past 4 decades, over 18 million square feet of office space, 1.9 million square feet of retail, 3,829 hotel rooms and 16,623 residential units have been constructed in the heart of our city, here's a look at when everything was built;
You can read the entire 2018 State of Center City Report here.
What are your thoughts on all the growth we are seeing in Charlotte?
Comments
comments