Over 20 Charlotte-area students were suspended from school for 3 days after they 'liked' an Instagram post that references a school shooting.
According to Bradford Preparatory School, everyone who hit the "like" button is being punished.
Yesterday the school released the following statement: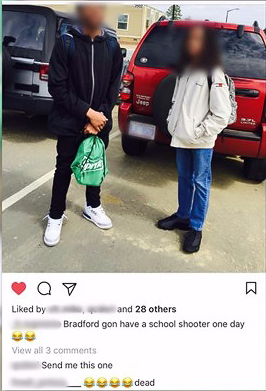 The Instagram post seems pretty harmless at first, until you understand what the caption is saying in relation to the picture.
The description under the photo reads, "Bradford gon have a school shooter one day" followed by two laughing emojis, under the picture of two of the school's students.
Once administrators at the school discovered the post, they were quick to deal with the two who were in the picture, and then started cracking down on all students at the school who 'liked' the post.
The school's reasoning was that they felt that any student who liked the post was 'endorsing a threat against the school.'
What do you think about the school's decision? 
Comments
comments