Yesterday evening, 2 pedestrians were struck and one was killed during a high-speed police chase through a residential neighborhood in Gaston County.
47-year-old Shawn Smith is currently in the hospital with critical injuries and another 18-year-old male was pronounced dead on the scene. Police will not release his name until his next of kin has been notified.
According to the NC Highway Patrol, Gaston Sherriff Deputy T. Buchanan attempted to stop 41-year-old Joshua Todd Soule near the intersection of 321 and Rankin Ave. at about 7:30 pm on Sunday evening.
A high-speed pursuit then ensued west down Rankin Ave.
The pedestrians were struck near 810 W Rankin Ave. and the Soule's car crashed on the side of 219 N. King St.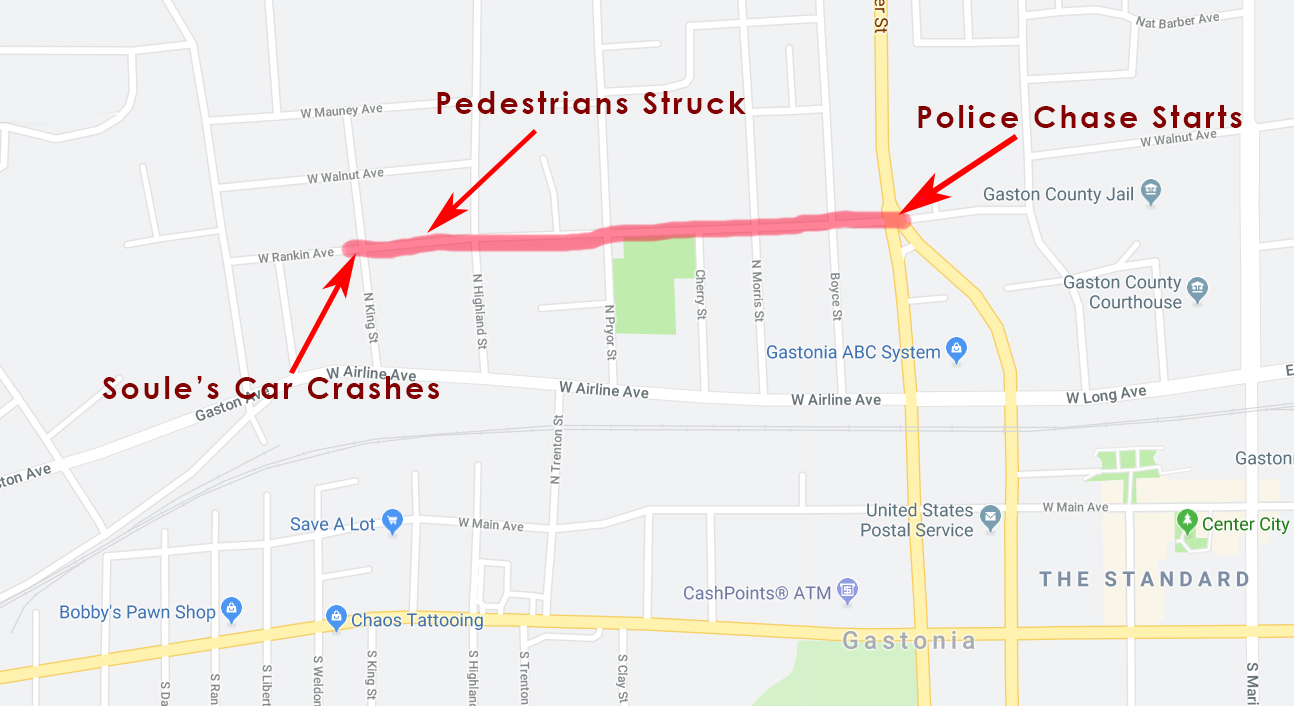 Soule was arrested at the scene of the crash and is now facing driving while impaired and fleeing to elude arrest charges.
Gaston County's Assistant Sheriff Deputy Chief Garry Williams addressed the media last night about the incident.
He said there was a lot of confusion about the incident and stated that "at this time, there was no physical evidence that I saw that our vehicle struck either pedestrian."
Sheriff Deputy T. Buchanan's vehicle was not equipped with a dash cam and his body cam was not turned on during the high-speed pursuit.
Several witnesses were adamant that they saw Buchanan's vehicle hit Shawn Smith, and some said they saw the deputy also hit the 18-year-old a second time after Soule hit him.
An extremely graphic video of the aftermath of the incident is now going viral on Facebook.
The NC Highway Patrol is now working with the NC SBI to conduct a full investigation.
Two innocent people found themselves in the middle of a police chase in Gastonia. One of them is dead and the other is seriously hurt. Gaston County Deputies say they tried to pull someone over for a DWI, but the driver took off – both cars ended up crashing. pic.twitter.com/vQcW2olfTg

— Bria Bell (@BriaBellTV) July 15, 2019
We will update this article when more information comes in.
Comments
comments