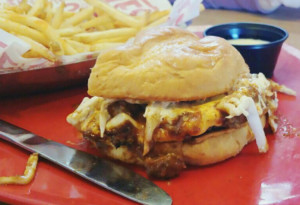 Orbits recently published an article entitled "The Most Iconic Sandwich in All 50 States", and what they name for the Carolinas might surprise you.
The list includes some truly unique creations, including; Alaska's 'Reindeer Sausage Sandwich', Idaho's 'Potato Salad Sandwich', Nevada's 'Catfish Sloppy Joe', and Mississippi's 'Slugburger'. Given those unique creations, you may be thinking they'd give the Carolinas something along the lines of a livermush biscuit, chitlin collard sandwich, or chicken and waffles, but thankfully, they went easy on us.
The most iconic sandwich in North Carolina was declared to be the 'Carolina-Style Hamburger'.
"Who needs the standard ketchup, mustard, pickle, onion, etc. when you can layer a burger with chili con carne, coleslaw, chopped onions and mustard? Try the version at Al's Burger Shack in Chapel Hill or at Duke's Grill in Charlotte," reads the article.
Personally, I think Cook Out makes the best Carolina style burger in the state, but I know most fancy people would disagree.
For South Carolina, Orbitz declared the most iconic sandwich to be the 'Pulled Pork Sandwich'.
"Some sandwiches never make it out of their home state or region—we're looking at you, reindeer sausage sandwich—but the pulled pork sandwich (made with piled high tender pork topped with BBQ sauce and slaw) can be found virtually everywhere these days. Lucky us!."
They forgot to mention that South Carolina's pulled pork has a unique mustard-based sauce and the best place to find it is at the legendary Shealy's BBQ in Batesburg, SC.
Do you agree with their Carolina choices? 
What do you think the most iconic sandwiches in our 2 states are? 
Comments
comments