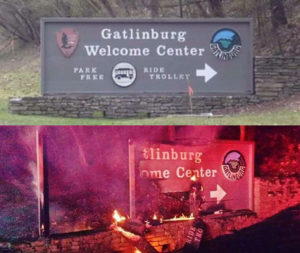 Hundreds of homes and businesses around the Gatlinburg region have now been burned to the ground after intense wildfire flames mixed with high-speed winds to create a raging mountain inferno.
Officials now estimate that over 14,000 residents have already been evacuated from the area and 3 people have been confirmed dead.
"This is a fire for the history books, the likes of this has never been seen here. But the worst is definitely over with." Gatlinburg Fire Chief Greg Miller said at a morning news conference.
Over 200 firefighters from across Tennessee and North Carolina continue to douse the flames, and the Tennessee Army National Guard is still dumping water on the flames via helicopter, with at least three additional Blackhawk helicopters waiting for deployment.
Last night, Twitter user 'Chris Brown' uploaded this video during the evacuation (graphic language):
What's happening in #Gatlinburg is unreal!!!pic.twitter.com/slKZvsX4Xe

— Chris (@ChrisBrownBruh) November 29, 2016
One of the region's most popular retreats, the 763-room Westgate Smoky Mountain Resort & Spa which has more than 100 buildings, is now one of the most significant losses so far from the fire – now that virtually every building has been burned to the ground:
Here is some of the aftermath of the fires:
Pictures from inside the city.#Gatlinburg pic.twitter.com/vCmVXEvvlW

— Everything TN (@Everything_TN) November 29, 2016
Comments
comments