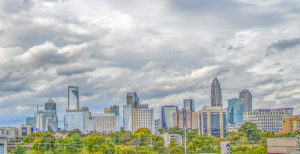 There's something for everyone in North Carolina. Our State is blessed to have adorning mountain views and that good old southern feel. Travellers can relish the beauty of the state by hiking, mountaineering, skiing, and touring around some of Charlotte's luxurious resorts to relax, play casino games and enjoy top tier bottle service.
Then there's the coastal region; a mix of good sunlight, sand, and ocean. And if you're a huge fan of auto racing, you've got to be here; North Carolina is the hub of NASCAR, the number one spectator sport in the country. Check out these sites:
Chimney Rock State Park
Do you love hiking? The Chimney Rock State Park is the place to be. Here, you'll find one of the most incredible hiking trails in the country, a 499-step monolith that opens you up to eye-watering scenery.
On average, it takes up to 25 minutes to walk up the steps to the Chimney. However, visitors who dread long distances can make use of the elevator.
This park is located 25 miles from the town of Asheville. It entertained over 400,000 visitors in 2021 alone, a 34% increase from the previous year.
Asheville
Asheville is a town known for its boutiques, bars, and great restaurants. It's a vibrant community that embraces artsy-crafty activities.
The town has received several accolades over the years, including being named one of the most beautiful places in America by ABC's Good Morning America. 
Its most renowned site is the Biltmore Estate, a global tourist attraction built in the late 80s. This mansion remains the largest privately owned mansion in the country and records almost a million visitors every year.
Old Salem Museum
Ever wondered what living in the Winston-Salem area during the 1700s and 1800s felt like? The Old Salem Museum has the answers. 
This location was originally settled by the Moravians, Protestant Church missionaries who hailed from what is now known today as the Czech Republic. Tourists, today, can see and experience the beauty of the old Moravian culture by spectating reenactors of the old tradition.
Bald Head Island
Are you looking to enjoy family time in a serene environment? Consider visiting Bald Head Island. 
This spot boasts an amazing Golf Course, maritime forest, marshes, and beaches that stretch up to 14 miles. The Bald Head Island Conservancy organizes Turtle Walks for tourists during the summer; turtle lovers will definitely find this place fascinating.
The island can only be reached from Southport by water transportation via a ferry; tickets cost around $23 for adults and $12 for children. Another option is to travel by private boat.
Visitors can move around the island by hopping on a golf cart or bicycle, or by trekking.
Wilmington
You've probably heard about the pretty beaches in North Carolina; you'll find three of most of the most popular ones in Wilmington — Carolina, Kure and Wrightsville Beaches. 
The State Aquarium located at Fort Fisher, Wilmington is one of the best in the country. Wilmington also has a scenic Riverwalk alongside the historic Cape Fear River (nothing to be fearful about). The walkway runs from Nunn Street to Isabella Holmes Bridge. Here, visitors can enjoy picnics with their loved ones, shop for different items, and visit art galleries.
Wilmington is also home to the Poplar Grove Plantation which is America's most ancient peanut plantation. 
Great Smoky Mountains National Park
This site holds the honour of being the most visited national park in the US. Here, visitors will be greeted with beautiful scenery, pretty waterfalls, 850 miles of trails, and plenty of wildlife adventures. 
The Great Smoky Mountains National Park has over 19,000 living species of organisms, including 1,500 bears, 200 bird species, 43 amphibians, and 50 species of fish. You'll also find foxes, raccoons, chipmunks, deers (including our highly adored elks), and turkeys.
Hanging Rock State Park
This park is located in Sauratown Mountains and is renowned for its quartz rock formations and chain of mountains. 
The Hanging Rock State Park is also a good spot for hikers as it boasts about 18 miles of trails and beautiful waterfalls. There's also a lake where visitors can swim, boat, and catch some good fish.
The state park has ten cabins and tents for tourists looking to enjoy some calm or bond with friends in an indoor environment.
Blue Ridge Parkway
There's a reason why this site earned National Parkway and all-American Road tags. It is widely regarded as the most picturesque road in the country. 
This tourist attraction is America's longest linear park, covering 469 miles through 29 North Carolina and Virginia counties. The Blue Ridge Parkway is lauded for its amazing mix of asphalt plus rhododendrons and dogwoods plantation in the spring, and its orange, yellow and red hillside scenery in the fall.
Charlotte
Charlotte is North Carolina's largest city which means there are a lot of goodies to experience here. It bears the nickname Queen City for a reason. 
Visitors can visit the Discovery Place with their family and friends: it's a science museum that boasts an aesthetic aquarium. Charlotte is also home to Carowinds, the world's largest man-made whitewater park and the National Whitewater Center. 
NASCAR is also headquartered in Charlotte. Motor sports fans can pay a visit to the NASCAR Motor Speedway to watch live races and tour NASCAR race shops in Mooresville before heading back home.
OBX
If you're looking for a place to relax after the scorching summer heat, this site is a sure bet.
OBX or the Outer Banks are barrier islands that line most of the North Carolina coastline. These sites were an anchorage for pirates in past times, particularly Edward Teach aka Blackbeard who was an infamous pirate who frequented these islands a lot before he was killed on Ocracoke Island. 
The north side of OBX is known for its wild horse habitat, the middle side is home to commercial towns where tourists can find restaurants, shops, and golf courses. Located on the Southern end is the Cape Lookout National Seashore.
Comments
comments