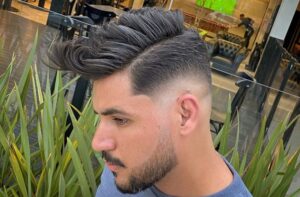 The new seasons of men's fashion have entered into the fashion industry with the arrival of the New Year. Yes! 2022 has come with a plethora of new and innovative mens haircut styles. Many mens haircut styles are making such a strong mark in 2022 that they are expected to remain for many years to come. Some are even anticipated to become worldwide classics. 
Have you heard of the textured finish in mens haircut styles? 
Well, it is one of the primary hair styles for men in the year 2022, and it seems to have the same buzz throughout the year, whether you have short or long hair. However, that's not all. You have several more mens haircut styles that can help you customize your hair look with the best hair-cutting trends. 
Let's look at the best men's haircut styles of 2022. 
Read on
High and Tight
Getting an attractive haircut done can be one of your best accessories! In the high and tight men's haircut style, you need to shave or closely cut the sides and back of your hair while keeping the hair at the top of your head longer than the other parts. The high and tight is one of the most appealing mens haircut styles, which looks perfect with careful styling, whether you want a messy or sleek look. 
2. Short Curls 
Short Curls is one of the best mens haircut styles to look trendy and smart. There are several benefits of having this hairstyle, as it can help you tame your tangles and keep the styling time short. In this men's haircut style, the texture is important. You can either wear your hair messy for a 'just got out of the bed' look or brush it back after applying some hair serum if you want a polished vibe. Just do anything that your heart desires with your curly oyster! 
3. Side Part with Quiff 
If you would like your haircut to be an effortless and timeless one, the side part with a quiff hairstyle is a perfect one. This hairstyle can help you have that Old Hollywood style look. The crucial characteristic of the Side Part with Quiff hairstyle for men is that it has length on the top. You can brush it backward and upward to build a volume for the quiff with a partition on one side.
In the past few years, the side part with quiff haircut for men has gained a lot of attention because many Hollywood celebrities have flaunted it over the time. And in 2022, the buzz for this men's haircut style remains the same!
4. Flat Top
The flat-top men's hairstyle is one of the versatile ones. It has adapted to match any personality, whether it is of chiseled military men or people who love to follow the classic hip-hop style of the 80s.
This haircut features short hair on the back and sides of your head with a good volume on the top. For making this men's haircut look spectacular, your hair is cut and styled in such a way that it is leveled flat with an angular look. This haircut is guaranteed to grab a lot of attention if you have thick hair.
5. Asymmetrical Layers
Whether you have thin or thick hair, cutting that in different levels of asymmetrical layers is a smart idea. If you are a man with light locks, this haircut will create an illusion look with a quite fuller and voluminous mane. However, if you have thick tresses, asymmetrical layers will give you a lightened hairstyle without having you sacrifice the body and thickness of your thatch. 
6. Undercut
The popular undercut hairstyle for men is all about adding a dramatic contrast between different haircuts, like faded, short backs and sides, as well as a disconnected and long top. It will not take much effort if you style your undercut hairstyle daily. But you should schedule regular appointments with your hairstylist or barber to make your trim look fresh. 
7. Gentleman's Haircut 
If you are a man who loves elegant and sophisticated hairstyles, a gentleman's haircut is for you. If you consider the gentleman's haircut, one of the biggest advantages you can enjoy is that it is suitable for any ambiance, from completely formal to casual and friendly ones. So, if you want a diverse hairstyle look, a gentleman's haircut is the best one.
8. Caesar Haircut 
A Caesar haircut style for men can be your most unique choice if you want to chop your hair with a versatile look. Compared to the full-on buzz cut, the Caesar cut is a little different. It is tapered on the side and coupled with some horizontal bangs. So, what are you waiting for? Get this cut done and seize the day. It is the most suitable one for most face shapes and men with big foreheads. 
9. Silver Curls and Undercut 
One of the best ways to tame your messy and curly tresses in style is to go for the silver curls and undercut hairstyle for men; however, if you think that this haircut style for men means that you are sacrificing your hair texture, it is not right.
Instead, when you opt for short on the sides and long on the top hairstyle, you can transform your entire look and make your hair the focal point of your whole face. With this mens haircut style, you can make your curls the spotlight and transform your look!   
10. Bro Flow Eboy
For a good reason, the bro flow is one of the best men's haircut styles. If you have long and thick tresses, this is a perfect haircut style for men. It will allow you to flaunt your long locks and help you have an appropriate look for the office. 
The Bottom Line 
Do you want to change your haircut style?
Well, we have discussed above some of the most amazing ones for today's modern men. Just pick the one you liked the most and transform your look without any ado. 
Have a dashing look!
Comments
comments