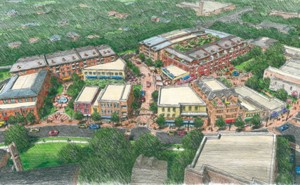 The Town of Davidson is in the final planning stages of their new 3.5 acre catalyst project that will be built on top of the municipal facilities between the North and South Main Street areas.
The Davidson Economic Development team recently presented the updates on the proposed project.
"The majority felt civic presence is important to remain downtown," Fleming told commissioners. "And they felt the town should own Town Hall." Director Kim Fleming remarked. "Another thing that came up over and over again, poor Birkdale, is no one wants Birkdale in downtown Davidson."
The new development hopes to satisfy more parking, more retail and office space downtown, a permanent home for the Davidson Farmer's Market, improved downtown public space, more downtown housing, and increased space for public services.
The town will most likely need to pass a multi-million dollar bond referendum to help pay for the massive new project. Leaders are now working with UNC's School of Government, to determine the type of private/public partnership that will be required to finance the new development.
What do you think Davidson's new Catalyst should include?
Comments
comments