All of the following homes are listed for sale under $30,000 by NC licensed Realtors on the Carolina MLS, they are all located in the city of Charlotte. Prices and features taken from the Carolina MLS.
Believe it or not, these homes are really for sale, in Charlotte.
Yes, you can buy a home for under $30, or you can buy 5 of them….if the seller accepts your offers first!
#1 North-West Palace – Asking $29,900
At less than 2 miles from Center City Charlotte, this beautiful 3 bedroom ranch home is one of the best deals in the history of real estate.
It features central air conditioning, gas-powered hot air, and a gravel-lined crawl space.
Original construction dates back to 1971, the same year that women were given the right to vote in Switzerland, and Walt Disney World opened in Florida.
Pets are allowed.
Mature trees in the back yard provide shade and fresh oxygen.
#2 South-East Condominium – Asking $28,000
Are you in the market for something a little more 'condoish'? Well, this is a condo, and it has 1 full bathroom! And 1 full bathroom!
It features 686 sprawling square feet and wall-to-wall carpet.
The HOA fees are $123 per month
The water and sewage pipes connect directly to the city, so you won't have to worry about any hand-pumps or outhouses.
#3 North-Side Cottage – Asking $30,000
Technically this isn't "Under $30,000", but buyers in Charlotte have been known to take less than asking price on occasion, $29,970 might even be a possibility.
A stone's throw from the i85 on-ramp, this beauty couldn't be any more convenient. It sits about 1 1/2 miles from Uptown and about 10 miles from Lake Norman – luxury living at it's finest.
The home was built in 1954, the same year that Elvis Presley began his music career. There's even a very unlikely chance that Elvis visited this home.
The refrigerator has a state-of-the-art ice maker connection. It has 796 square feet w/ 2 bedrooms and at least 1 bathroom.
#4 West-Side Trailer – Asking $26,600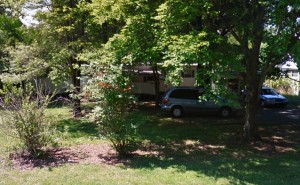 This is a one-of-a-kind gem – mobile homes are becoming a truly exotic commodity in the Queen City.
Not only will you be buying this sprawling 672 square foot 2 bed 1 1/2 bath home, but you'll also get a monstrous .34 acres of potentially gold-rich dirt!
The best part about this home is that it is within walking distance to the Catawba River, just north of Lake Wylie.
#5 Stunning Ranch by Camp Greene Park – Asking $24,900
This sprawling 2 bed 1 bath home is half of a desirable duplex within walking distance of the historic Camp Greene Park.
Plenty of yard space for kids or dogs to run around in, or if you're into gardening, this home is for you!
It consists of 720 massive square feet and sits on a cozy full-width crawlspace.
The floors glisten with rich vinyl in the kitchen and bathroom, and the living room and bedrooms feature lush wall-to-wall carpet.
Want to see the inside?
Want to submit an offer?
Evergreen Real Estate can help;
Please share;
[one_third]


[/one_third] [one_third]


[/one_third] [one_third_last]


[/one_third_last]
Comments
comments