In the small town of Clover, SC, Clint and Elizabeth Boyd are hoping to start a new fresh seafood trend.
They have already spent over $40,000 to launch their new company, called "Saltwater Markets", a fresh seafood, meat and shipping business on Bethel Street. Clint certainly has plenty of experience in the industry, as he recently stepped down from a top executive position at a Charlotte based corporate seafood company.
The couple is betting on a primed market in the Charlotte region that now craves fresh fish but can't always find it.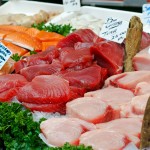 So far, they are primarily relying on a St. Augustine, Fla.-based company to deliver them the freshest catchs — grouper, flounder, shrimp, mahi, snapper, scallops, and lobster.
With the exception of crab legs, nothing sold at Saltwater Markets has ever been frozen, and the crab legs are only frozen because the fishermen freeze them directly on the boat.
The couple is hoping the new Publix on Lake Wylie won't offer them too much competition, since even Publix can't compare with the level of freshness the Boyd's are now able to offer.
You can find out about current specials and upcoming events on their website here.
Comments
comments