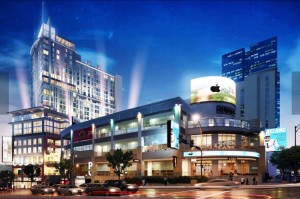 The massive hotel that was originally planned to be built as part of the original Epicenter development just officially celebrated it's "skybreaking".
For years, naked i-beams and wires protruded from the top of the Epicenter, an eye sore for anyone on the upper levels of the complex. The original hotel was brought to a halt after the developer ran out of money and entered into a lengthy legal battle.
In the lawsuit, Mount Vernon and accused Vision Ventures of fraud and engaging in a scheme to "squeeze out" Mount Vernon from its minority interest in the Epicenter's air rights and the 263 parking spaces for the planned hotel.
The CFO for development firm Citisculpt commented that the suit was settled last week but he did not release any further details.
Cleveland Construction has been selected to finish the project. The new designs include a suite-style luxury 116-room Residence Inn on top of the tower, and a 184-room AC Hotel on the lower section – both are brands of Marriott International.
The high-rise will also include a public rooftop bar, restaurant space on the fifth floor and retail space on the first floor. The finished complex is now expected to open toward the end of 2017.
Please share;
[one_third]


[/one_third] [one_third]


[/one_third] [one_third_last]


[/one_third_last]
Comments
comments