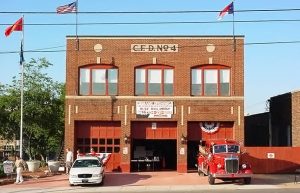 While most people know about Charles Johnson's amazing talents on the football field, many don't know that he's also very successful businessman.
His newest business venture will be called the '4th Ward Fire House', it will be a firehouse-themed restaurant serving American food on the first floor and sushi and tapas on the second. There will be tons of space for tailgating and Panther fan parties with a planned front patio and large rooftop deck.
According to new building permits filed with the city of Charlotte, the Panther's star defensive end will be spending approximately $3.3 million to build the new restaurant and party venue.
The fire station is located at 420 West 5th Street at the foot of 'The Vue' apartments:
Johnson originally purchased the 1920's era fire house in March of last year for $1.6 million back in 2015;
Prior to that, the building was owned by a group lead by Panthers' center Ryan Khalil.
Charles Johnson's new 4th Ward Fire House is targeted to open sometime this Summer.
Please share;
Comments
comments