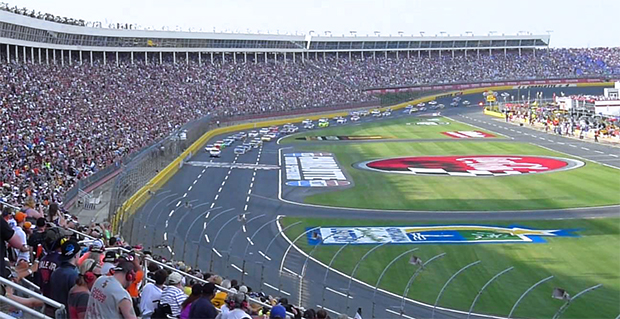 The Sunday before Memorial Day is undoubtedly the biggest day in racing, with the Grand Prix of Monaco, the Indianapolis 500, and the Coca-Cola 600 all happening on the same day (Tony Stewart still holds the title for being the only driver in history to finish 1,100 miles of the Indy 500 and Coca-Cola 600 on the same day).
The Coca-Cola 600 was first held in 1960 – the first official race to take place at the newly built Charlotte Motor Speedway. It is still the longest race on the NASCAR's schedule at 600 miles, and it's also unique for the fact that the race changes drastically from start to finish. It starts around 6:20 PM in the sun, has a midway point at dusk, and the final third happens under the lights.
This year there is a significant chance of rain – the race has to at least reach the half-way point for drivers to be awarded points toward the series.
The race will be aired on Fox starting at 6pm tonight.
Fun Facts about The Coca-Cola 600;
— Second is the most proficient starting position in the field, producing more winners (17) than any other at Charlotte Motor Speedway.
— Jimmie Johnson leads all active drivers in the Cup Series in laps led at Charlotte with 1,735 in 29 starts.
— Joey Logano leads all active drivers in the Cup Series in average finishing position at Charlotte at 9.571.
— Dale Earnhardt Jr. leads the seriesfollowed by Ryan Newman with 30.
Tomorrow, we race 600 miles.#CocaCola600 pic.twitter.com/WmIRR9Wkt3

— NASCAR (@NASCAR) May 28, 2016
Please Share;
[one_third]


[/one_third] [one_third]


[/one_third] [one_third_last]


[/one_third_last]
Comments
comments