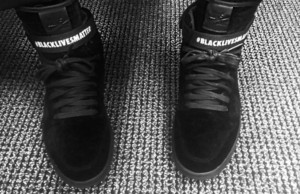 NBA Legend and Charlotte Hornets owner Michael Jordan might be about to release the most controversial pair of sneakers of his career.
Frank Cooker, a Jordan brand ambassador just posted a picture of a new pair of all-black Air Jordan 1 High sneakers with the phrase "#BLACKLIVESMATTER" sewed in bold font across the ankle straps of the sneakers.
Under his post he comments, "… and so does standing up for peace, harmony, equality and justice for ALL!"
Cooke works in energy design for Jordan and regularly posts shots of new Air Jordan sneakers before they are released to the public;
Michael Jordan has been known to speak out for racial issues, and to use his brands to make his voice heard. Earlier this year, the Jordan Brand even released a pair of special Black History Month sneakers.
Jordan even donated $2 million of his own money after the 2016 protests in Charlotte to help bridge the racial divide in Charlotte. He donated half of money to the International Association of Chiefs of Police's Institute for Community-Police Relations, and the other half to the NAACP Legal Defense Fund.
 The Undefeated website published his public statement after the donation; "I was raised by parents who taught me to love and respect people regardless of their race or background, so I am saddened and frustrated by the divisive rhetoric and racial tensions that seem to be getting worse as of late. I know this country is better than that, and I can no longer stay silent."
It's unclear when or if the #BLACKLIVESMATTER Air Jordan sneakers will be released to the public.
Comments
comments