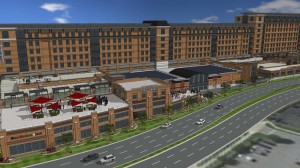 A key area of Greensboro's Midtown is now getting a major face-lift via a new $50 million mixed-use development.
Last summer, developer Marty Kotis announced a new retail and restaurant phase that he would build onto his Red Cinemas property at 1305 Battleground Ave. – that plan has now drastically grown.
The new $50 million plan will include an additional nine-story high-density residential tower, a hotel, as well as a new integrated greenway, to make it a true connective center for Greensboro's rejuvenated Midtown.
His bold plan is to build a dense mix of residential, retail, and restaurants in a city that typically builds out each of those uses with expansive surface parking.
Downtown Greensboro has historically been the only exception to this rule, where space is at a premium, and parking decks are not an option. Kotis' new development will buck this trend by building one of the biggest parking decks outside of the downtown district.
Kotis is now planning on breaking ground later this year.
Please share;
Comments
comments