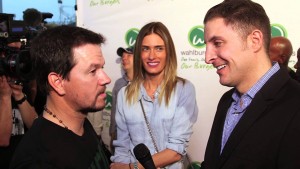 Major expansion plans have been announced for Wahlburgers, the burger joint that launched a reality show staring Mark and Donnie Wahlberg, with new locations now planned for Charlotte and Charleston.
The restaurant headquarters is in Massachusetts, but the Wahlbergs commented in a recent statement that they plan to have more than 100 restaurants operating within the next several years throughout the southeast and California.
"We are on the road to bringing Wahlburgers to a city near you, we've created this family business with a mission to welcome families and friends from around the world to a place where they can break bread, enjoy some great food and lots of laughs." Mark Wahlberg commented in the statement.
Mark and his brother's restaurant inspired A&E to launch the new reality show based on the burger chain in 2014. It features all the behind-the-scene drama of expanding a burger joint to new cities throughout the Southeast.
The show has already featured an impressive mix of celebrity guests, including NASCAR favorite Dale Earnhardt, Jr., music legend P. Diddy, and even Pope Francis.
The exact location and opening date of Charlotte's new 'Wahlbergs' restaurant is not yet known.
Comments
comments