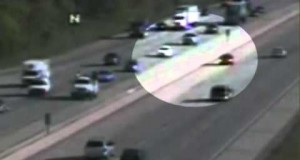 A Charlotte man has just been arrested for fleeing Gastonia Police while driving on the wrong side of the highway with drugs and a loaded shotgun.
He reportedly threatened a woman with the shotgun in the Highland Community, then started driving the wrong way on I-85 during morning rush hour traffic. Thankfully, the car stalled on the side of the road due to mechanical problems before anyone else was seriously injured.
Witnesses reported seeing him throw his loaded 20-gauge shotgun out of the car near the Marietta Street bridge. Police later retrieved the shotgun, along with 2 grams of cocaine and other counterfeit drugs.
Kenneth Meaders was charged with driving the wrong way, driving reckless to endanger, driving while license revoked, five drug charges, including possession counterfeit substance, possession of a firearm by felon and fleeing to elude arrest with motor vehicle and resisting a public officer.
Please share;
[one_third]


[/one_third] [one_third]


[/one_third] [one_third_last]


[/one_third_last]
Comments
comments