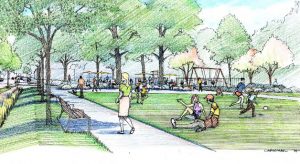 The Harrisburg Park will now be expanding by over 40 acres acres, thanks to a recent purchase by the Harrisburg Town Council.
The parcel, located southwest of the current park boundary, will double the size of the park and improve park access from Hwy. 49. In accordance with the town's parks plan, uses under consideration include multipurpose sports fields, splash pad and expanded playground facilities with multigenerational features and picnic shelters.
Harrisburg Town Council agreed to purchase the parcel from a bank for $425,000 during this past week's town meeting.
Natural areas and an expanded trail system bordering Back Creek are planned to balance preservation of green space and tree canopy with the need for expanded youth sports facilities.
You can find out more about the future plans of the Harrisburg Park in the Harrisburg Parks and Rec Master Plan.
Comments
comments