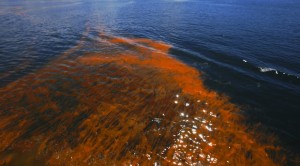 The Hazardous Materials Team from Gastonia joined forces with Belmont and Charlotte Firefighters to contain and test a recently discovered orange mass just north of Lake Wylie.
The groups worked together to quarantine the giant orange mass, then the Hazardous Materials Team took samples back to the lab to begin testing. Everyone's biggest fear was a chemical spill, especially since the mass was so close to the Belmont Wastewater Treatment Plant.
Firefighters from multiple departments corralled an orange blob of algae Friday afternoon after Belmont residents called with concerns about the mass.
Once the team ran several chemical tests on the material they announced that it was a rare, but safe form of algae.
The total plume ended up stretching over 1,000 feet along the shoreline near the Belmont Wastewater Treatment Plant.
If the substance hadn't come back as organic, a massive multi-county team would been assembled to begin the cleanup process.
The team now things that this rare orange algae bloom was primarily due to the lake's unusually low water levels.
If your home is on well water, experts are recommending the use of an on-tap filter system.
Please share;
[facebook][tweet][digg][stumble][Google]
[one_third]


[/one_third] [one_third]


[/one_third] [one_third_last]


[/one_third_last]
Comments
comments