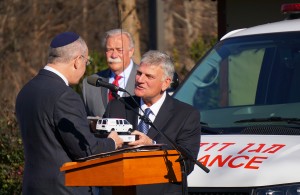 The Graham family has always had a deep love for the nation of Israel and for all people in crisis, and today, the city of Charlotte witnessed this love in action.
This morning at the Billy Graham Library, The Billy Graham Evangelistic Association and Samaritan's Purse held a dedication ceremony for 2 state-of-the-art and fully stocked ambulances that have been donated to a ministry called Heart to Heart Israel. The ministry works with Israel's front line hospitals to help save countless Jewish, Christian, and Muslim lives throughout a nation of over 8.4 million people.
"The ambulances we are donating will make a big difference in helping to save lives in Israel — one of the most conflict-ridden areas of the world. Our prayer is that by providing these ambulances, lives will be changed both physically and spiritually." commented Franklin Graham.
"Due to the consistently tumultuous landscape in Israel, there is a continued need for life-saving assistance for the Israeli people and ambulances are the first line of support in the face of physical need. The first responders offer immediate care for everyone from babies, to a tourist suffering a heart attack to a victim of a terrorist act. We are eternally grateful to Rev. Franklin Graham and Samaritan's Purse for their remarkable gift of two ambulances," remarked Heart to Heart Israel's director, Jonathan Feldstein.
Today was truly a historic day in Samaritan's Purse and BGEA's 40+ year history of helping victims of tragedy, poverty, and terrorism around the world.
Please share;
[facebook][stumble][Google][tweet]
Comments
comments