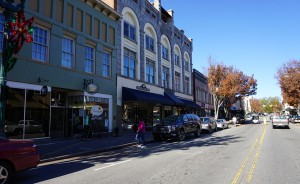 Not only is Concord seeing its highest home prices in history, it's also seeing one of the highest population growths in our state. Based on new Census data, Concord has now surpassed Asheville to become the 11th largest city in the state of North Carolina.
According to the new estimates, Concord has grown by 2.57%, from a population of 87,643 in 2015 to 89,891 in 2016 – the biggest growth rate among the state's 15 largest cities – the next closes was Durham with a growth rate of 2.13%. Concord is now about 2,000 residents shy of Greenville, NC's 10th largest city, and about 15,000 residents shy of High Point, NC's 9th largest city.
Charlotte, the largest city in the state, grew by over 15,000 residents in the past year alone (with a current population of 842,051).
These new population estimates show a continued migration away from the small rural town, and toward the large metro cities and their surrounding suburb towns and cities. Huntersville is one of the most stark examples of this trend, the small suburb had a population of 3,014 in 1990, and has since become home to 54,839 people – it's now larger than the entire city of Hickory.
The suburb of Indian Trail is another example, which had a population of about 1,000 in 1990 census, it's now home to 38,222- larger than the cities of Monroe, Shelby, and even Statesville.
Our region's top growth rate was seen in Fort Mill, SC at 9.44%, followed by Waxhaw at 5.07%, and Huntersville at 4.04%.
It's certainly an exciting time to live in the Charlotte region! 
Comments
comments