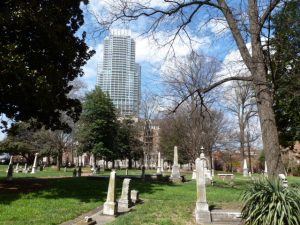 According to the City of Charlotte's website, the Old Settlers Cemetery, located on Fifth Street behind the Presbyterian Church, was the first grave yard in Charlotte and was used as the "Town" Cemetery until a few years prior to the Civil War, about 1853-1854. At that time, because of its small size and crowded condition, it was closed and the city opened the much larger Elmwood Cemetery just up the road on 6th street.
The Old Settlers Cemetery remained unchanged for almost 200 years – sitting quietly as it watched every block around it be torn-down and rebuilt constantly throughout the generations (as can be seen through these historic photos of Uptown Charlotte).
The oldest known gravestone in the cemetery dates back to October 21, 1776, belonging to a man named Joel Baldwin who died at age 26, and perhaps the most famous one belonged to local US Militia Colonel Thomas Polk. He is the man who initially called the now famous county-wide meeting on May 19, 1775 that resulted in the signing of the Mecklenburg Declaration of Independence a year prior to the U.S. Declaration of Independence.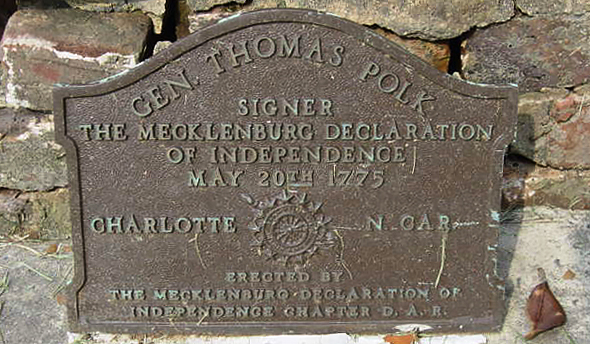 The Old Settlers Cemetary in Uptown Charlotte is still owned by the city and open to the public every day from 6 a.m. to 9 p.m.
Please share; 
Comments
comments