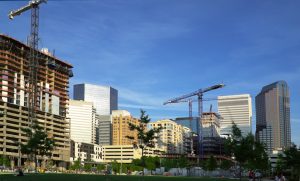 According to a new 106 page report by the Urban Land Institute and PwC, Charlotte now ranks has the 3rd most attractive real estate market in America for 2016. The ranking was determined using an exhaustive internal study of economic indicators and a nation-wide survey of leading real estate professionals and investors.
The Queen City dominated the southeast, beating out Atlanta (#5), Nashville (#7), Raleigh/Durham (#11) and Charleston (#25) – narrowly being beat by Dallas/Ft. Worth and Austin, TX.
Charlotte's booming population, growing economy, small businesses attractiveness, and strong construction sector were the most significant factors in achieving such a high ranking in the groups' annual Emerging Trends report.
This year's ranking showed a huge improvement over last year, when Charlotte was given the PWC #7 spot for 2015.
The ULI report noted that, "good job and population growth along with the development of urban centers continues to make the market attractive to residents. Interviewees generally feel good about the Charlotte market, although some did express concern that the concentration of the financial services industry may not offer the same level of growth as other more technology-oriented markets."
Our city has seen a huge flood of money over the last year, with new office towers in uptown, SouthPark and Ballantyne, and over 12,300 apartments currently under construction all around Center City.
The report also noted that secondary markets such as Nashville, Tampa, Charlotte, and similar cities feature much lower living costs and stronger growth potential when compared to primary markets such as New York, LA, and Chicago.
Please share;
[one_third]


[/one_third] [one_third]


[/one_third] [one_third_last]


[/one_third_last]
Comments
comments