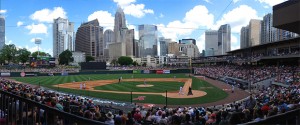 Major league baseball might soon come to Charlotte!
Well, "soon" might be a bit of a stretch…the Commissioner of Baseball, Rob Manfred, did name Charlotte on a short list of possible expansion cities, but the reality is that even if we are picked, it might not come for 10-20 more years.
His new list included; Charlotte, Oklahoma City, Mexico City, Portland, Las Vegas, Montreal and San Antonio as possible sites for future baseball expansion cities.
In Charlotte, reactions have been tempered with a dose of reality.
"It takes deep pockets and it takes the right site. The Knights have seen a big attendance spike now in their second season playing uptown. However, the major league is literally a different ball game." Charlotte Knights General Manager Scotty Brown commented in reaction to the announcement.
What do you think about a new MLB team in Charlotte?
Comments
comments