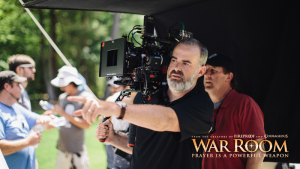 Charlotte Filmed 'War Room' Stuns Hollywood With a $11.4 Million Weekend.
Faith-based 'War Room' opened up to 1,135 theaters its first weekend, with reports people were laughing, crying and praying as stunned Hollywood watchers saw the low-budget, Charlotte area film nearly dethrone "Straight Outta Compton" as the weekend's highest-grossing domestic release with its $11.4 million debut.
The names Alex Kendrick and Stephen Kendrick are likely to be unknown but thanks to low-budget hits like "Fireproof" and "Courageous," the brothers have transformed themselves into the Steven Spielbergs of Christian cinema. War Room earned an A+ from CinemaScore, making the first film to receive such a rating since American Sniper earlier this year.
Filming in Uptown Charlotte and in Kannapolis, Concord, Hickory and Huntersville, the Kendrick Brothers Productions project spent three months in the area last summer employing a cast of 45 and crew ranging between 85 and 100 people. It drew more than 1,000 volunteers from 85 churches in the Charlotte area.
"We found everything we needed to produce War Room in Charlotte," said Stephen Kendrick, "the homes, businesses and even our Miss Clara; we've been blown away by Charlotte."
"War Room" focuses on the power of prayer through the eyes of a family that needs it. In the film, Tony and Elizabeth Jordan, seem to have it all — great jobs, a beautiful daughter and their dream home. In reality, they are not as lucky as they appear. The couple's world is crumbling under the strain of a failing marriage, Tony basks in professional success and flirts with temptation while Elizabeth resigns herself to increasing bitterness.
Their lives take a turn when Elizabeth meets her newest client, Miss Clara, and is challenged to establish a "war room" as well as a battle plan of prayer for her family. As Elizabeth tries to fight for her family, Tony's hidden struggles come to light — and he must decide if he will make amends to his family and prove that victories don't come by accident.
The website MovieTickets.com indicated "War Room" was trending No. 1 in ticket sales all weekend, accounting for 20 to 28 percent of all ticket sales over the weekend.
For more information, or to view a trailer or theater listings for "War Room," visit WarRoomTheMovie.com.
War Room is also on Facebook at Facebook.com/WarRoomMovie.
The film, being distributed by TriStar, is rated PG.
Please share;
Comments
comments