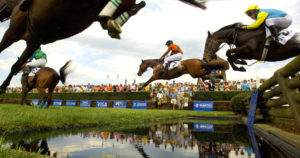 In just a few days, one of the biggest horse racing events in the southeast is coming to the Charlotte region.
Every year, thousands of people come out to see some of the most athletic thoroughbred horses race each other at speeds of over 30 miles per hour. The jockeys, dressed in bright colored silks, push their sleek steeds to clear four and a half foot jumps over a two and a quarter to as much as three miles rolling turf course.
This year's purse is a record for the Queen's Cup – the winner will now receive $150,000 in cash, as well as the opportunity to bask in the glory of the winner's circle is what it's all about from the horse's connections.
The Queen's Cup attracts a true mix of horse enthusiasts, race fans, and networking elite looking to solidify their latest business deal.
There will be plenty of space all around the rolling hills to set up a spacious picnic or tailgate with some of your neighbors.
The event will be held this coming Saturday, April 28th in Mineral Springs, NC. You can find out more here on the QueensCup.org
Please share;
Comments
comments