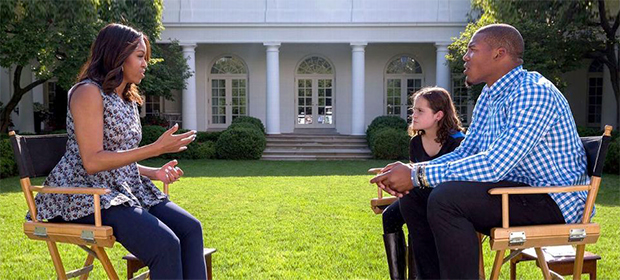 Cam Newton just stopped by the White House to help 10-year-old Rosie Smolowitz explore her aspiration to one day become president, and he took some time to have a chat with First Lady Michelle Obama.
Newton flew to Washington to film a segment of his upcoming Nickelodeon television series, 'All In with Cam Newton' with first lady Michelle Obama and Smolowitz.
Cam Newton even took the time to snap a a selfie with a group of adoring fans at the White House;
Cam Newton Kid Friendly At The White House https://t.co/pUXxwizT78 pic.twitter.com/lDBZ3hb7He

— Terez Owens (@TerezOwens) May 25, 2016
In his White House segment, Newton interviews Mrs. Obama in the Rose Garden, talking about what it's like to be the First Lady, and what kids can do to pursue their dreams.
Mrs. Obama also took some time to highlight her "Every Kid in a Park," program – a White House initiative that allows all fourth-graders and their families to experience the country's national parks, forests, public lands and waters, free of charge.
"All in With Cam Newton" is now scheduled to air Fridays at 8 p.m.
Please share;
[one_third]


[/one_third] [one_third]


[/one_third] [one_third_last]


[/one_third_last]
Comments
comments