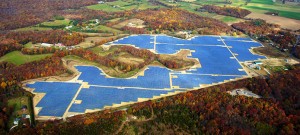 Cabarrus County's largest building permit this summer was for a massive new solar array to be built in in Midland, NC.
It will be the county's first large-scale solar farm, and one of the largest in the state.
Strata Solar LLC was issued a $3.5 million building permit for a 95.5 acre solar panel installation on a piece of land that was previously zoned for agriculture.
The new farm will produce 22 megawatts, enough energy to fully power about 3,000 homes per year. This clean energy will offset more than 1 billion total pounds of CO2 in our atmosphere.
They project that the farm will last at least 50 years without needing major repairs and upgrades.
Please share;
Comments
comments