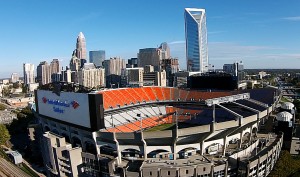 Most big things in Charlotte are either blue (Panthers, Hornets, Bank of America, Lowes), or red and gold (Wells Fargo, Bojangles, Family Dollar), but this weekend the Queen City will witness a massive flood of orange.
Tomorrow night, the ACC Football Championship is coming to town for the 6th straight year. The undefeated Clemson Tigers (12-0) will take on the North Carolina Tar Heels, who are currently on an 11 game winning streak.
Although the teams are evenly matched, their fan bases in Charlotte won't be. Clemson fans had an extra 2 weeks to buy tickets, since they won the conference's Atlantic Division 2 weeks before the Tar Heels won their Coastal Division.
Experts are predicting that Tiger fans will overwhelm UNC fans at tomorrow night's sold-out game. The Bank of America Stadium seats 73,000, and about two-thirds of those have already been claimed by Clemson fans.
The fact that the game sold out so soon drove up prices on secondary ticket markets. Tickets for tomorrow's game are now being sold from $146 to $620.
This will be the third sold-out ACC Champtionship Game since it was moved to Charlotte back in 2010. This year, the game is projected to have a $30 million impact on our local economy.
Please share;
[facebook][tweet][digg][stumble][Google]
[one_third]


[/one_third] [one_third]


[/one_third] [one_third_last]


[/one_third_last]
Comments
comments