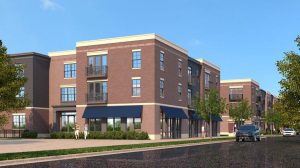 An alliance of local non-profits and city organizations, led by the Urban Ministry Center, have announced that they will be moving forward with a new 120 unit apartment complex off Wilkinson Blvd. to permanently house the chronically homeless in Charlotte (the project was originally announced last August).
The new development is part of a larger plan, called Housing First Charlotte-Mecklenburg, launched 2 years ago by Mayor Clodfelter. The plan has a goal of completely ending chronic homelessness in Charlotte by the end of 2016, but since the new apartment complex won't be finished until 2018, they may need to extend that goal.
The Urban Ministry Center also announced the completion of 35 additional apartments for Moore Place, a transitional apartment complex on North Tryon St. that's already received national attention for getting mentally ill and disabled people off the streets.
Last year, UNC Charlotte researchers compiled data that showed Moore Place would reduce local taxpayer costs associated with the homeless by $2.4 million in its first year. This was based on the assumption that it currently costs the tax payers of Charlotte $40,000 per year for each homeless person for emergency healthcare and law enforcement services.
Mecklenburg County still has 345 chronically homeless people waiting to be housed, and potentially thousands more who have not been identified or are in transit.
Please share;
Comments
comments