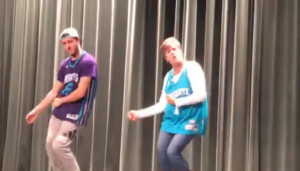 Yesterday evening at 6pm, Myer's Park High School hosted their annual talent show. Most people expected to be 'wowed' by some impressive acts, and bored by some that need a little more practice, but I doubt anyone expected a mother and son to perform "the history of dance" and become an overnight internet sensation.
Mrs. Ginny Jenkins and her son Scott's performance now has over 1,700 shares and 85,000+ views in less than 12 hours.
The description under the video says it all, "THERE ARE ABSOLUTELY NO WORDS ~ This mother son duo with Mrs. Ginny Goodwin Jenkins & Scott Jenkins ROCKED it! 🐎🐎🐎"
The talent show featured an amazing diversity from almost every genre of music and dance, including;
A full-scale country band;
A coriographed dance to Yolanda Adams;
And a rather impressive traditional Indian performance;
Last night's talent show not only created some new internet stars, it also raised funds for the Susan G. Komen Breast Cancer foundation;
Way to be awesome Myer's Park!
Comments
comments